Water Damage And Restoration Services  – Carpeted Areas
Overview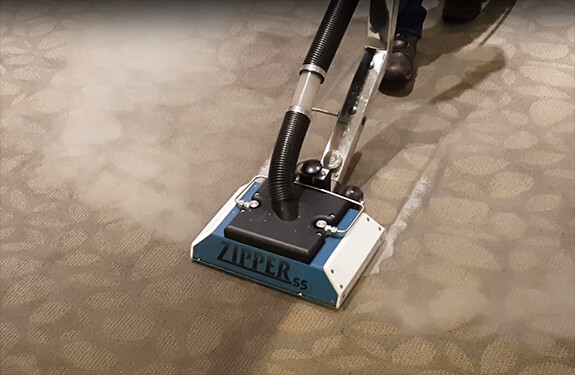 We have all had to deal with water damage on our carpets at a precise moment. Whether it is a forgotten
window during a rain storm, broken pipes, a malfunctioning washing machine or dishwasher, or a leaking roof, the result is one and the same – heavily soaked carpets that accumulate enormous amounts of water. Forget about discomfort; such situations are potentially hazardous to your property and health. If your carpets are left exposed to excessive humidity for a protracted period of time, this may result in mold, mildew, and bacteria formation and accumulation. These residual agents, in turn, will loosen the fibers of your carpet, damage its structural integrity and lead to overall deterioration in its condition beyond repair. Mold and mildew are also among the most common allergens and may cause severe respiratory problems.
Bottom line – you have to deal with your soaked carpets quickly and efficiently.
But how do you do it?
RJ Cleaning and Restoration has the best answer to your problem! We have come up with a specialized water damage restoration service for carpets that adequately addresses all problems mentioned above. We can quickly assess the extent of damage and contain the hazards for your carpets, restoring them to their pristine condition and making sure your home is totally health safe.
The advantages of our water damage restoration package
Perfectly trained and skillful carpet care technicians
Specialized professional equipment for quick results.
The restoration method has been proven in a multitude of successful procedures.
We are available 24/7 in the entire Maryland, Washington and Virginia areas. We also take emergency calls and short-notice appointments.
Our price rates are more than reasonable.
The procedure is perfectly health-safe and risk-free for your property.
We serve both commercial and residential customers.
Call 410-672-3104 or click here to get emergency advice and schedule an appointment.
Cutting-edge equipment for perfect results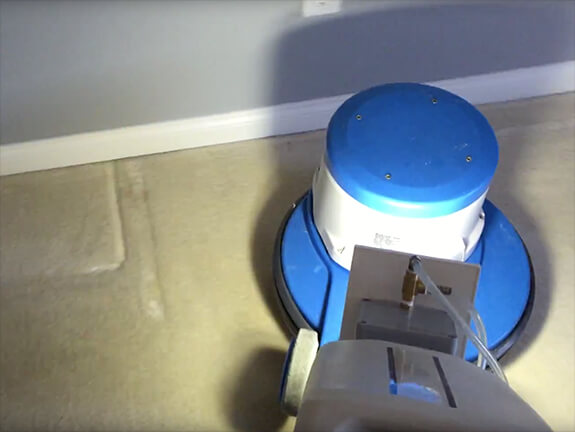 RJ Cleaning and Restoration operates specialized high-pressure drying equipment by AirMovers with industrial-grade strength and application. Our machines allow us to work on a wide range of projects: from small areas – like a leak in your kitchen for example, to full-scale flooding and water damage in industrial, retail, and commercial premises. We can treat walls, floors, and even ceilings, if necessary – the method applies to carpets, rugs, and any upholstered service. Our technicians also operate hot water extraction machinery for complete mold and mildew removal.
Our 6 Point Carpet Restoration Process
Step one: Assessment
Our first task when we visit a flooded home or business area is to assess the extent of damage and find out how long have the carpets been exposed to humidity. This allows us to plan our next moves and better address the problem. Please, be advised – if your carpets, rugs or upholstered furniture have been exposed to direct and permanent contact with water for too long, they might be beyond repair.
Step two: Water extraction
We put our equipment to work and swiftly dry out the affected area.
Step three: Carpet care
Our technicians proceed with a thorough carpet shampoo and deodorizer to remove bad smells and small residual particles. We apply specific organic-based sanitizing components to make sure your home or business space is perfectly health-safe.
Step four: Hot water extraction
If the carpets have been exposed to water for longer than 24 hours, we strongly advise the application of the hot water extraction method. Even if mold and mildew did not have time to stick to the carpet, why take the unnecessary risk? We have been licensed by one of the pioneers of the "micro hot water extraction method (a London carpet cleaning firm using a very effective mixture of microsplitters and Chemspec Formula 90 powder)
Step five: Carpet restoration (if necessary)
Step Six: Final inspection
RJ Cleaning and Restoration is committed to quality control and customer satisfaction. We always perform the last check-up with the carpet owners to make sure they are happy with the results and the overall improvement of their property.
When it comes to water damage, time is of the utmost importance. Do not waste even an hour longer – give us a call on 410-672- 3104 right away and make sure your home or business premise is quickly restored to its pristine condition and comfort!
Call 410-672-3104 or click here to get emergency advice and schedule an appointment.