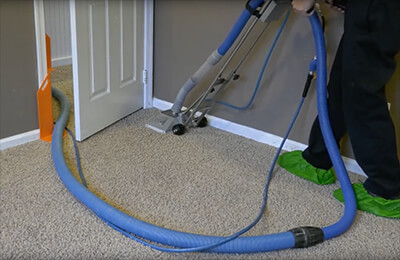 Update: Please click here to find out about my specialist Water Damage Restoration of Wool and Nylon carpeting.
Well, I am here not by choice but because one has to earn an honest living. I could not get any other job where they require qualifications in various fields which I do not possess. "Something is better than nothing" as they say and so here I am ready and willing to take on this rather boring job but I am paid for it and so I must do my best to please my customers.
I am not working for any carpet cleaning company but as an individual going from house to house or from one office to another. Fortunately I am provided with all the tools and equipment that is required to clean carpets – disinfectants, a top of the range SEBO vacuum cleaner, Kleenrite tools, brushes, deodorizers, Chemspec carpet shampoo, extraction solutions, a turbo dryer – the full works.
The Task
I am quite eager to share the experience I had the other day at a place where there were five kids all in the age group of 2 to 15. It was the carpet in their lounge. I was called to do the job the day after they've had party there – a birthday celebration of their third child – a seven year old. As you can imagine nothing has been spared in order to amuse the guests, including throwing pies around.
The Challenge
Excellent! The dirtier the job the better the result it will be. The difference would be greater. I had total freedom to tackle the job the way I wanted. I first picked up all the toys that were strewn all over the place before starting to vacuum the place. The vacuum cleaner had a tough job to suck in the most unexpected objects – shreds of balloons, pins, paper bits, broken glass. I had to empty the bag a number of times. Quite amusing 🙂
The Solution
Now the carpet was visible and ready for the best part of the cleaning job – removing the smell and look of a few red patches with a certain smell most associated with a two year old kid having plenty of water and fun. I did say that there was a two year old there, didn't I? Those patches smelled pretty bad. I searched and outlined these wet patches and started working on them.
Soon the carpet had a fresh and clean look but required some more work in order to become fresh in smell as well. I had to deploy my special citrus deodorizer as a last defence against bad smells on soft furnishings. Result – amazing natural citric freshness. Just as I thought. A quick final touch by using my trusty turbo dryer (a big monster of a professional air mover) and the carpet cleaning job was complete.
The owners were more than pleased and paid me handsomely. I requested the owner that I met the child whose birthday it was. In a matter of minutes the child made its appearance with a plate full of goodies and offered them to me. That was indeed a good gesture worth noting and praising. I was indeed touched. I wished the child a happy birthday and presented him with a gift I had brought knowing it was the morning after the night before – the night before being a party night for this child whose birthday it was. I spent a few minutes chatting with this wonderful kid who told me all about the party. Man, these little guys know how to party, I'm telling ya! These are moments that I cherish and I do get them occasionally in my profession as a carpet cleaner.
Why I Love My Job
Meeting new people and getting to know them for a little while is the reason I prefer to work in private houses. However not all jobs are that lovey-dovey. If you are having a bad day, you can get a customer who wold say nothing, think nothing and behave like there is no one in his home. If you are running on a very bad streak you can have a no payer as well. Who, in their right mind, would start arguing with the carpet cleaner and refuse to pay, only because the guy has been late with the start of the job. And that fact is ply mentioned AFTER the job is complete. Never mind! Thankfully I don't have a lot of these people.
That said, the majority of my experiences with my fellow humans have been excellent and good enough to make me think differently about working this job for a living. Man, now I just love my job. Cleaning carpets is probably the best thing that ever happened to me.